EVERY DAY USE & STATIONERY LABELS
Theses are the Labels, which are in use of our day to day working, May be at the Home or the Shop or the Business House. We have almost all sizes, which we think, can be useful in one or other way.
We offer following types:
Round, Square and Rectangle Plain Paper Labels
Red Border Labels
Florescent Yellow or the Pink - Square as well as Round Labels
These Labels are available in Retail Pack of either 100 or 500 or 1000 nos. depend on the size of the labels. We can develop the Special Pack for the Quantity Order.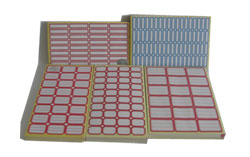 Stationery Labels
We have the wide range of top quality, reasonably priced stationery products suitable for the Market. These handy labels are available in a variety of colors and have a permanent adhesive on the back.

Alphabet & Number Labels
Color Labels
School Labels
Cheque Amount Protection Labels
Document Punch Hole Savers
Address Labels etc.