We can supply labels with a variety of information on a multitude of label stocks. All the types of Barcodes e.g. E.A.N. Code, Code 39, Interleaved 2 of 5, code 128 etc. can be incorporated in the Labels.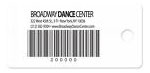 Barcodes can also be Sequentially Numbered which makes them ideal for Tracking Products during its Manufacturing Process or for the Asset Identification within the Organization. In fact, we can print barcode labels from variable, customer supplied data also.

Labels also can be customized with the Product Name or the Company Logo.

Opting to use Preprinted Barcode Labels eliminates the need for label printing equipment, the staff to run the equipment, and the management required to assure a quality label.

We cater to the Small requirements (250, 500, 1000) right through to much larger runs (100k, 250k & 500k).